"You have nobody working. There's no active spaces, and that means you have streets that are quiet and dark and empty at night, which makes people feel unsafe," one developer says.
After Isaac Abid arrived in the Bay Area in 2014 to open the Oakland office of San Diego developer HP Investors, he watched as other investors and developers poured into Oakland over the next six years.
New apartment buildings reached for the sky, delivering thousands of new units in downtown and Uptown Oakland. Office towers rose, thanks to the spillover effect from the San Francisco tech boom. The city even recorded the tightest office market in the country in 2018. Local and institutional investors alike got in on the action.
"There are only so many markets in the Bay that have the ability to carry density. When you think about where the growth can go in a meaningful way, it really just sort of looked like Oakland was that place," Abid said. "If you were to draw a bullseye for infrastructure and geography for the Bay Area, it would basically be Oakland."
It seemed like the city was well on its way to finally achieving its long-stated goal of creating a "living downtown," a phrase that's come to mean a vibrant place where people live, work, shop, play and eat all in a dense business and residential district.
Then it all fell apart.
The thousands of new residents downtown have not activated the streets in the post-pandemic world the way that stakeholders like Abid were expecting, with Covid-induced changes in behavior and fears about crime to blame. HP, he said, has retail tenants that have set up shop just blocks from some of the largest new residential buildings who have simply not benefited from that proximity like the firm thought they might.
"They aren't seeing the kind of traffic one would expect if people in these apartment units were coming out and engaging," Abid said. "I do think in the environment we're in now, one has to wonder why we don't see the streets quite as active."
All of the amenities and elements that had set downtown Oakland up for greatness pre-pandemic — its office market, its central location, the housing — remain in place, and so Abid still thinks the question for Oakland is when, not if.
But when many urbanists are encouraging struggling urban cores across America — including San Francisco's Financial District — to revive themselves by recreating themselves as mixed-use districts, Uptown and downtown Oakland are both a testing ground and a reminder: simply injecting a mix of uses into an urban core is not a cure for post-pandemic decline if those uses aren't properly engaging with and activating each other.
Flood of apartments
An analysis of 14 apartment buildings with a total 3,500 units that delivered in downtown Oakland between 2017 and 2021 showed those properties were anywhere between 81% and 97% leased — by all accounts, a good stabilization timeline. Assuming just a single resident resides in the apartments that have leased across those 14 buildings, they're collectively housing nearly 3,000 new residents.
But downtown feels emptier than it should given their presence, said John Wayland, executive managing director at Holland Partner Group, which has grown its development portfolio to just under 1,500 units in downtown Oakland over the last seven years.
"Oakland had all the elements. The culture, the restaurants, the amenities, the residential. Office was coming. What happened? Office workers stopped coming into Oakland. If you go downtown to the City Center area, it's still pretty bleak," he told me. "It was knocked back a decade."
So why aren't downtown and Uptown Oakland residents showing up in ways that observers like Abid and Wayland expected they would? Some real estate observers said residents' consumption habits had simply been altered by the pandemic; others told me that residential buildings don't necessarily translate into 24-hour, seven-day-a-week foot traffic. All said, I heard lots of theories while reporting out this story, but nearly all of them touched on a common theme: crime.
Citywide crime data from the city of Oakland shows commercial burglaries began trending up in the city in 2017, rising from less than 500 incidents that year to more than 1,300 year to date. Homicides this year and last topped 100, compared to 97 in 2020.
But auto burglaries appear to be trending downward from their peak of nearly 12,500 incidents in 2019; roughly 7,800 incidents have been reported year-to-date after a low of 6,339 in 2020. Incidents of petty theft, defined as theft of property worth $950 or less, have also been on a slight downward slope since 2019; grand theft, theft of property above that value threshold, has trended down since 2019.
Dead streets
Beyond the numbers, there's residents' perception of downtown Oakland. Empty streets in a downtown core like Oakland's simply feel wrong, said Danny Haber, co-founder of Oakland-based developer oWow. It is that feeling, perhaps more than any any of the hard data, that Haber thinks repels residents.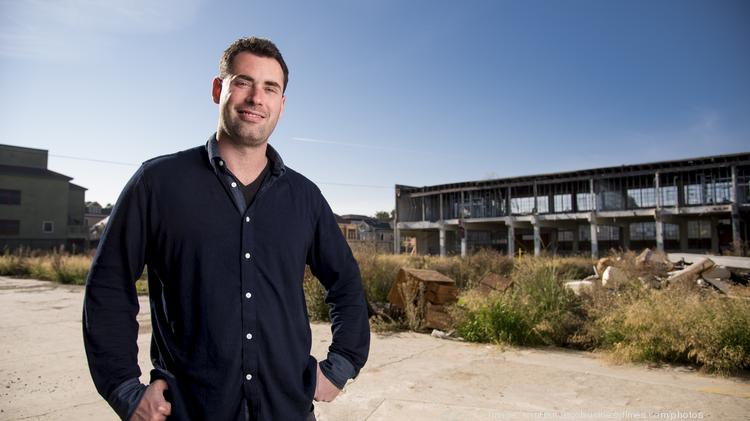 "You have nobody working. There's no active spaces, and that means you have streets that are quiet and dark and empty at night, which makes people feel unsafe," he said.
Vacancy rates in Oakland's City Center business district office market grew from 18.7% pre-pandemic to 33.1% in the third quarter.
In other words: Residents are staying away from the streets because there aren't people on the streets.
That cycle is weighing on small businesses in the downtown area, according to Victor Diaz, who opened Renegade Running, a specialty running apparel store on Grand Avenue between Uptown and Lake Merritt, in the summer of 2020.
"Maybe some of it was Covid related. I think a bigger part of it, now, is crime," Diaz told me. "I don't know a single retailer whose windows have not been smashed or who has not had someone come in and grab their stuff and run out."
Renegade itself has been broken into eight times over the last two and a half years, said Diaz, a tenant of HP Investors' who told me he has no imminent plans to close or move his store. Both he and HP have made expensive modifications to the storefront over the course of Renegade's tenancy in the hopes of preventing additional break-ins. So far it's not worked: The most recent incident happened at the end of October even as those preventative measures were in place.
Diaz says he is frustrated primarily with Oakland's elected officials, who he thinks have not stepped up to help resident businesses.
"I have never heard of a plan to improve either the economics or the safety of people in the city. I don't know of a specific plan. I have never seen or been a part of any community conversation as to what that plan is and how it was constructed, if there is one. And there is certainly no communication as to the progress of that," he told me.
City officials are thinking about how to coax residents out of their downtown units, said Kelley Kahn, the deputy economic development director.
"Time is also going to start being a cure for getting people out of their buildings," Kahn said. "We have to flex that muscle of wanting to to a restaurant to eat out instead of getting something delivered."
High-rise living
Abid said he believes many downtown residents have been reacting to safety concerns by treating their apartment buildings like "gilded bunkers." Because many of these buildings are so amenity-rich, residents can remain inside instead of venturing out downtown.
A handful of recent public reviews left for Atlas, Carmel Partners' 633-unit building at 385 14th St. that delivered in 2020, seem to support that theory: At least three reviews left over the last two months mention audible gun shots in the area, and another handful mention frequent car break-ins outside of Atlas' protected garage.
"This is by far the best building I've ever lived in but I regret moving here," one resident wrote in a review of Atlas, adding they "hear gun shots more weekends than not." "Unfortunately this area/city is going through a tough moment with violence."
Even as residential product in downtown Oakland is leasing well, the leasing market is a concessionary one, Holland Partner Group's Wayland said. Two of the firm's projects that delivered in 2020 and 2021 are today around 90% leased — an encouraging sign. But between the months of free rent residents are offered at signing and lower-than-expected market rates, the gap between reality and the firm's expectations is about 30%.
Colin Behring, whose firm Behring Cos. is nearing delivery of 1900 Broadway, a 452-unit mixed project in Uptown, told me he believes the shift in the residential rental market can also be traced to the onset of remote work. The thousands of new apartments rising in downtown Oakland were supposed to be followed by huge swaths of office space that would cater to an influx of tech employers — whose workers could be counted on, at least to an extent, to lease up those new apartments.
OWow's Haber said he thinks at least a portion of the new residents that have come to downtown over the course of the pandemic were drawn to concessions rather than downtown itself.
"People are being lured in by discounts, and they're not coming because they're working in downtown Oakland or downtown San Francisco," Haber said. "It's either a 30% drop in rent because the concessions aren't real — the concessions are the market — or it'll be tough until the city opens back up and draws people that are excited to live downtown."
Behring, whose project at 1900 Broadway is still months from pre-leasing, said he believes that moment is within reach.
"Downtown Oakland will be a phenomenal location, especially as all the towers are completed and people begin returning to work," he said. "And elements of that are already in play, but it's definitely a little slower than what everyone would have hoped."
HP's Abid said new residents have prevented an even gloomier fate.
"It's hard to ignore the fact that thousands of multifamily units have been delivered in the heart of downtown. Were it not for that, I think we'd be looking at a bigger challenge in terms of Oakland getting where it wants to go," he said. "You have a large number of residents in this area. If that had not occurred, you'd be looking at just a large cluster of vacant office buildings."